In Portland last week, Senator Wyden held a press conference to announce his support for expanding VA benefits for soldiers exposed to toxic chemicals in Iraq.  This arguably sounds bland.  It is not.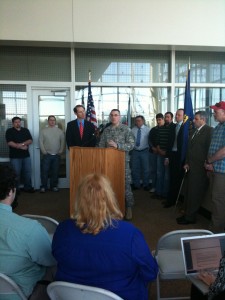 It's important for a few reasons. Let's talk first about history. Senator Wyden and I are a few years apart, but I believe that we both share the haunting memories of our Vietnam era vets exposed to Agent Orange. That was the impetus for me in joining this fight. I imagine it plays on Senator Wyden, as well. We owe our soldiers many debts. It is good that Senator Wyden sees the world this way and has committed to the fight.
I'll be the first to admit that I don't always agree with Senator Wyden. But that is little more than a footnote. I share his sense of mission and want to thank him for his commitment to these issues.
And that brings me to the other reasons why this is important. Senator Wyden's commitment to these issues provides profound comfort to our injured vets. At one point during the press conference, Senator Wyden opened the mic to any of the sick vets who wanted to comment. A soldier, Sgt. (retired) Matt Hadley, moved toward the mic. He hesitated briefly–Matt is a soldier and not the kind of guy you would find hugging a mic at a press conference. He developed asthma and was forced to retire from the Oregon National Guard.
So as Matt moved to the podium, I wondered what he would say and do. He paused and then called out Senator Wyden by name. He delivered the most heartfelt thanks that anyone could imagine. I would have remembered it and reported it word-for-word, except that I was busy losing the struggle to remain dry-eyed. Sgt. Hadley gave voice to many in that brief moment, and what I heard was that our vets were thankful that they don't fight alone.
The last reason why all of this is important is that Senator Wyden is taking up the mantle of leadership on these issues. Senator Wyden has been supportive of the vets throughout, but he has deferred to his colleagues, Senators Dorgan and Bayh.  Both are leaving the senate. So Senator Wyden's leadership on this issue will be important.
All of this takes place as we move forward in the legal fight against KBR. Our soldiers protected KBR at the tainted Qarmat Ali site. And now they face a lifetime of health problems. As we look at these problems going forward, I'm struck by the contrast. Our soldiers did their jobs at Qarmat Ali. They didn't complain about putting themselves on the line to protect KBR assets and personnel. And now that they are sick, I can't help but grow angry at KBR's refusal to cover our soldiers' backs.
I guess that's why God invented juries and why I have a job.